House sign and name
Exclusive special design.
---
RAL colors can be fully fitted to your house.
The finishing touch of a stylish appearance, your house.
This house sign can be mounted on the wall, gate or mailbox.
---
Custom-made is possible.
---
Our house sign creations are like works of art: they are made with passion of the artist and ask patience from the art lover ... .
---
Delivery time is 1 to 4 weeks depending on our current workload. Worldwide shipping!
---
10 years guarantee.
---
MATERIALS & SPECIFICATIONS :
- House number and text - names engraved in high impact acrylate.
- Colouring number and text - names: high UV varnish.
- Sides edges : high gloss polished
- Back plate: solid powder-coated aluminium or 316 stainless steel (option)
All Ral color available
---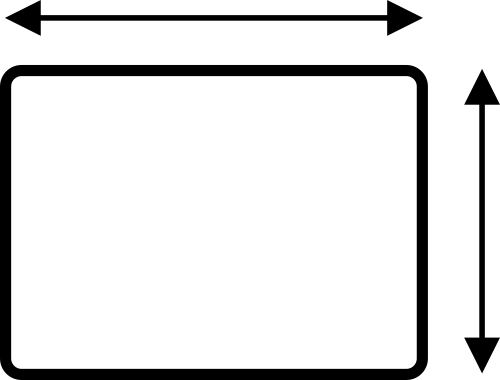 DIMENSION mm : 150mm x 170mm (width x height)
DIMENSION inch : 5.118 inch x 5.9 inch (width x height)
---
1) SUPPLIED WITH MOUNTING SET TO DRILL: (standard) screws, plugs, spacers, screw cover caps, manual photos.). (easy to install).
OR
2) SUPPLIED WITH ADHESIVE MOUNTING KIT : (option) the back side is self-adhesive prepared with an adhesive kit instant. The nameplate is detachable via the screw system and the decorative caps. Perfect for mounting on blue stones, letter boxes, crepie backgrounds, if you do not want to drill holes or you are not a handy Harry. This assembly is quick and easy and, sticks to all surfaces
---
ORDER ONLINE THIS MODERN HOUSESIGN : OPEN ORDERFROM
- The order preferences are set as the represented model : RAL colors, fonts, etc...
- You can always adapt these settings to your personal colors.
---
Green Aluminium Metal: Aluminium can be recycled almost infinitely without loosing unique properties. In remelting it is not only reclaimed metal, but by definition, 95% of energy is saved. The ore is very easy to exploit: it is just excavated to the surface. After just fifteen years nature has recovered.
---
Stainless steel 316: is the standard for the chemical industry. Stainless steel 316 is high quality material and ideal for outdoor use. The cheaper doorbells and also many house signs are made of stainless steel 304 indoor quality and therefore less resistant to corrosion.
Always ask these values on paper!
---
Our house signs are produced in certified high quality materials. Our designed product is a combination of state of the art machinery and handcrafted finishes. MADE IN BELGIUM
Open orderform
Order securely online
Base price example model : € 160,00 VAT inc.